Leather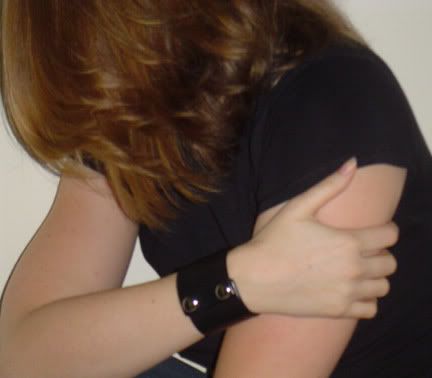 I strode into work this week with a black tee shirt, low riding jeans, and my new black leather cuff. I felt like a badass. Oh, I felt tough. And I waited for someone to comment.
When no one noticed (at least the cuff! C'mon! The cuff is awesome!), it made me wonder why I dress the way I do.
To be conscious of my outfit in terms of other people reminds me of being in junior high, high school, even college. First I dressed because I wanted to fit in, then defiantly because I wanted to make sure I stood out. It feels like a step back to wonder what people are thinking of my outfit. Which then made me realize how I've settled into my own groove, and no matter how much I might daydream about having a little rebel biker chick inside of me, I really don't. I might not be as radical, or hippy-chick, or graceful sophisticate that I'd like to be, but I think it's too late to change my habit and nature.
I've long outgrown my leather pants; I've thrown away (with good reason) the Harley Davidson tee-shirt I turned into a slutty halter top; and to tell you the honest truth, I didn't wear low-rise jeans with my cuff this week. I wore Easter yellow Gap corduroys.
As much as I love my new cuff, the idea behind it was to hide my future wrist tattoo. I'm responsibly approaching it knowing there will be a good deal of time I'll want to (or need to) keep it covered. That the cover is slightly subversive just makes me all the more happy.
Labels: style