The great pumpkin caper
Maybe caper is the wrong word, because that makes it sound frolicsome, when really it's a big (little) pumpkin mystery.
Two cute, baby pumpkins sitting on the porch. Innocently sunning themselves, waiting for their big debut at Halloween, only to be cut short. Very short.
Last night when I came home: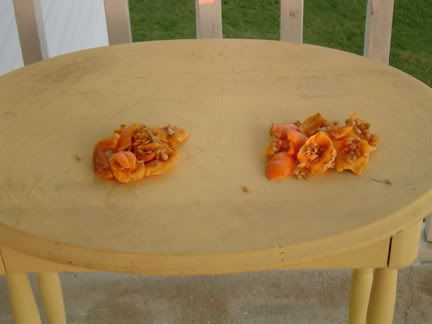 It looks like they spontaneously combusted. Like Dementors paid them a visit and sucked out their will to live.
Our porch: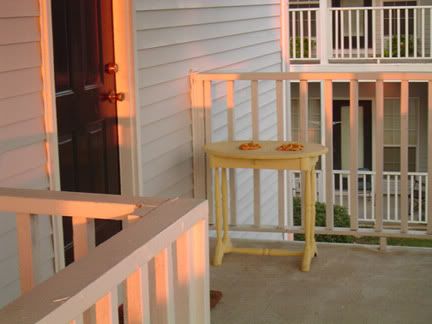 As you can see by this picture in particular (our door is at top right), the up stairs end up by our neighbor's door, so anyone near our door is definitely there for a reason.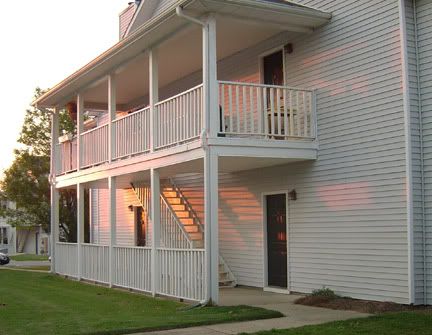 I just don't know what reason that could be. The pumpkins don't look like they've been disturbed. The pile of guts is fairly neat, and there was but one or two seeds on the ground--it didn't look like a battlefield.
Tonight when I came home (I'm considering leaving everything intact for our Halloween party next week):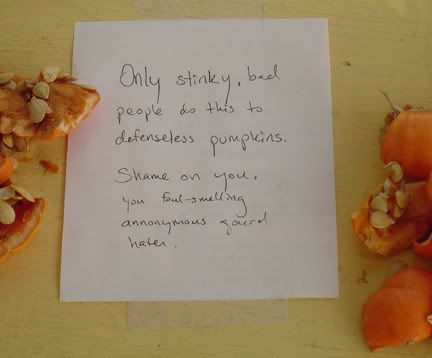 (And lest anyone doubt my editorial prowess, I'm not the one who mispelled anonymous.)