I'm as bad as a crow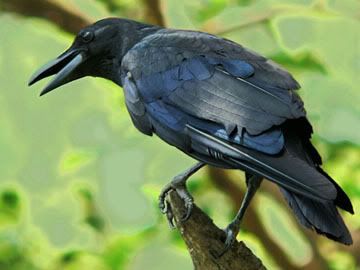 Yes, that's me. I'm like a crow. Only my bright and shinies aren't actually bright and shiny--usually.
Mine are pens. They wink seductively at me from the mailroom office supply shelf, whispering, "Wouldn't I fit perfectly in your fingers? I'm the answer to all your ink-blotted scribblings!" And they wind up in my fingers, in my pockets, in my desk drawers at home, in my mouth as I gnaw on them pensively, thinking. (Usually thinking, "well, no one will want to use this now that it has my saliva on it; I might as well keep it . . .")
Or maybe I'm more like a squirrel. I find pens I love and store them away for emergencies. I find a pen I love, and use it to death. I have backups for my backup pens.
I can't write unless I like my pen. But I'm not terribly posh in my taste. Rollerballs make my handwriting messy. My favorite end up being the cheap ballpoints, with a firm, not too fine, line, and leaving no splotchy blobs of ink at the upswings of my loops. The right pen makes my handwriting legible, sometimes even downright romantic.