Stuffed Zucchini
I pulled this recipe together out of things in the kitchen and a recipe from
J
. Key, though, is fresh basil.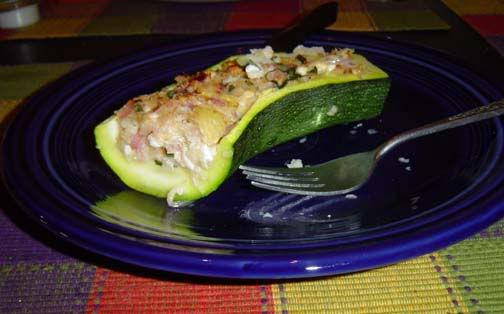 Stuffed Zucchini
zucchini
onion
garlic
feta cheese
fresh basil
bread crumbs (I used Panko)
salt and pepper, to taste
Using a knife and spoon, cut/scrape out the guts of the zuch. I like to leave a thick rind on it.
Dice the onion (the smaller, the better, but I'm not a huge onion fan), and sautee in olive oil with garlic. (I used roasted garlic, because I had some leftover, but fresh would be fine, too.) After cooking the hell out of the onions, add chopped zucchini guts.
You're supposed to cook that until the water from the zuch cooks off, but I didn't notice it giving off a TON of liquid. Just cook it until you think it's done.
Add a handful or two (depending on your love of feta) of cheese, and roughly chop the basil. (I like leaving them in fairly big pieces. yum.)
Add a few shakes of breadcrumbs. (Though I didn't do a side-by-side taste test, it seems like the Panko crumbs probably lighten the stuffing a lot more than regular crumbs. But really, I think any kind would be fine.)
Salt and pepper to taste. Spoon the filling into the zucchini shells. Cook them in a baking dish with sides, just in case they leak, and spray the bottom of it with cooking spray so they don't stick.
Bake in a 400 degree oven for 20-30 minutes, depending on how soft you want the zucchini rinds (I like them still with a bit of crunch).
As much as I am irritated by recipes calling for pinches and dollops and glops (god, I hate
glops
!) that's basically how I cook, so I can't give out any real measurements. Sorry.
I think there's really no way to fuck up this recipe--provided you don't forget about it in the oven and burn it. It is deeeeelicious!
Labels: food