My sister's wedding
So she's bugging me to write about it.
It was lovely. All the celebrations were fun and not stressful (for
me
anyway).
I planned the bachelorette party, dinner out at a nice restaurant. No strippers, penis cookies, nothing. It was wonderfully low-key. We had plenty of wine and got to see old friends. Katie likes to act like she's an old fogie, and doesn't want to party like a rock star, but after a few glasses of wine, her tune changed, and we stayed up way too late. I really can't think of much I enjoy more than being surrounded by girl friends, good conversation, food, and wine.
The next day was the rehearsal, then an afternoon spent with the other bridesmaids, mom, and mother of the groom at a nail salon. We drank iced coffee, read magazines, and absolutely blissed out to manicures and pedicures. I don't get those ever. They were such a treat. In the evening, rehearsal dinner, where Chris's brother made a slide show of childhood pictures. I was in most of them. We were darling.
And that's when the picture taking started.
How is it that Katie looks like a California surfer girl? We're Kansas girls!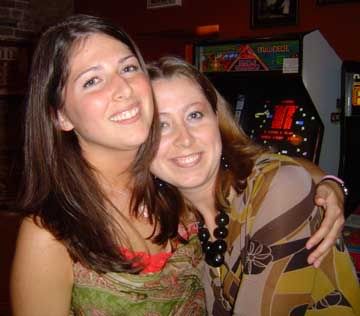 Where did my round eyes come from? Clearly I was adopted.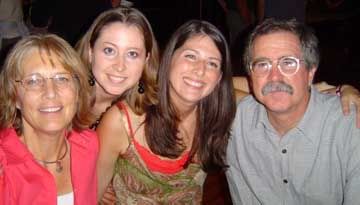 Day of the wedding. For Tim and I, it was pretty leisurely. We slept late, walked downtown Evanston to get some Dunkin Donuts (for me anyway. Hey! We don't have a DD here!), and then lunch in the hospitality room. My parents had the stack of photos that Chris's brother sifted through to put together the slide show, and I looked through them. I wasn't but a few pictures in, looking at baby Katie and I hugging each other like we actually got along as kids, when I started sobbing.
It wasn't the wedding so much as just
her.
I miss her so much it's like I have this hole missing in my heart. I just can't bear to be so far away from her.
Cool, calm, and collected, ready to head to the wedding space. It really took two people to carry that dress.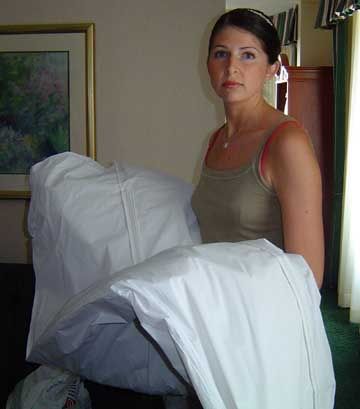 On the way to the space. That's Eliza, Katie's best friend.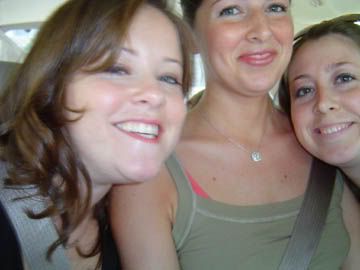 Before she got dressed, I modeled the crinoline under my own dress.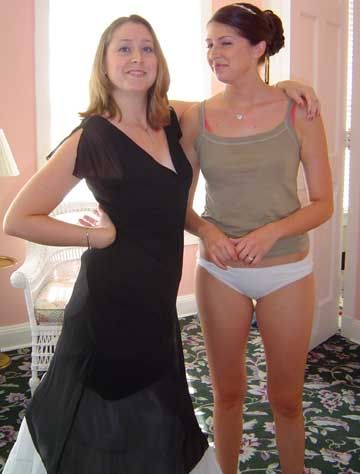 We tied her into it.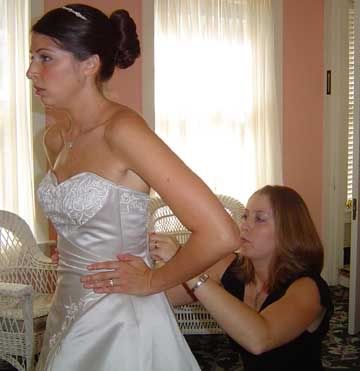 Posing for pictures pre-ceremony.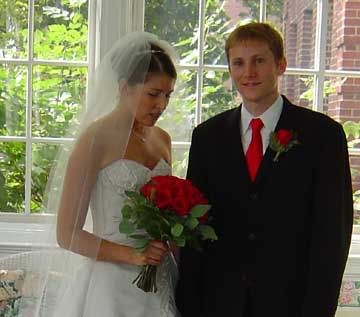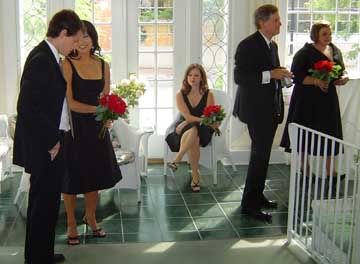 Then we went back to the dressing room to hang out and wait until it was time. Chris's brother's girlfriend procured a bottle of wine and we did a round of toasts.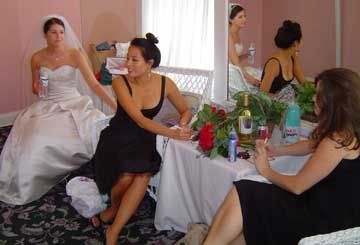 Then it was time. I love the look on mom's face. Halfway between laughter and insanity.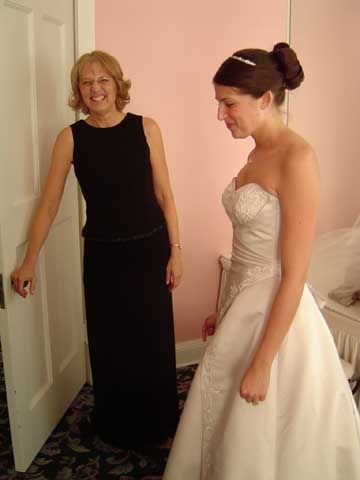 No pictures of the ceremony, for someone was sitting right in front of Tim. All I remember is that the minister wore a cell phone speaker on his lapel so that Chris's grandpa in Florida could listen to the vows; that Katie spoke so quietly I couldn't hear her, and I was standing right next to her; and that my feet hurt so badly it was all I could do to not fall down on the spot.
After the ceremony, a quartet played for cocktail hour. I think quartet is too fancy of a word. They were a folky bluegrass band. Exactly the thing that inspired dad to pick up an extra guitar and join in.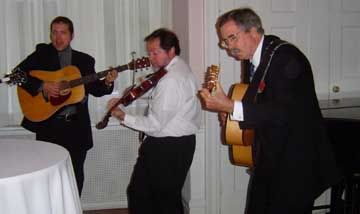 Then it was dinner time. The DJ announced their arrival.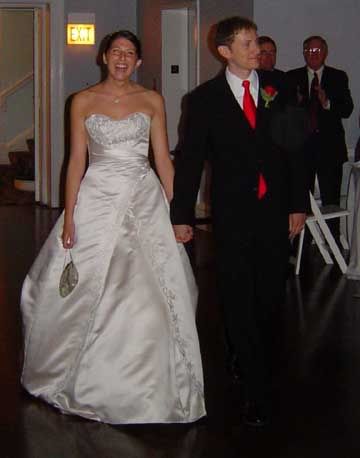 In case you can't tell, here's a closeup of Katie. She'll kill me for it, but I love the look of sheer happiness.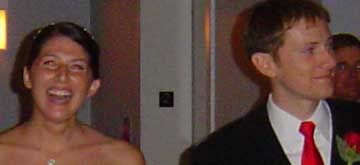 Hopefully some day I will see the video, because I made an spectacular toast to Katie and Chris. Best maid of honor speech ever. Trying to recount it to Tim (who ducked out after the ceremony to go to another wedding) didn't even do it justice. Let's just say I made people laugh and cry lots. I should be a professional toast-giver.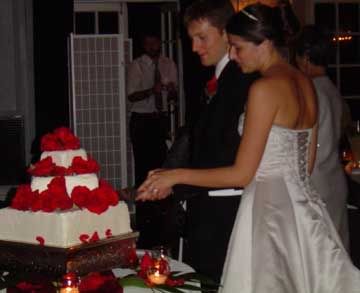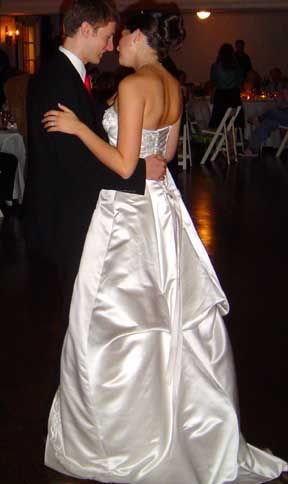 BFF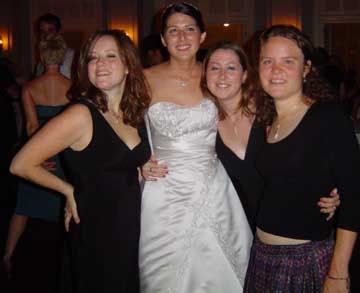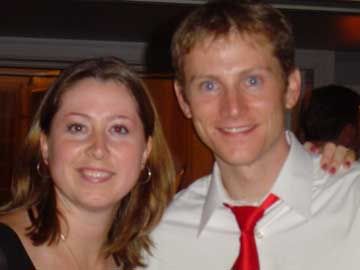 The evening took a wild spin when dancing started. My certifiably insane uncle got out his drum and started playing along to the music.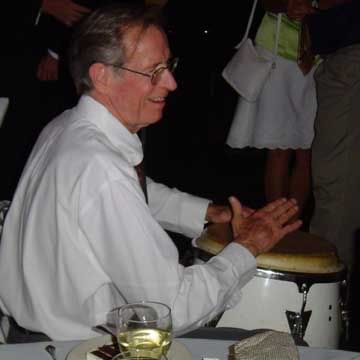 But it was fun. So much fun. It was demonstrated, the clear link to insanity in the Moran family because my dad also tore up the dance floor. I'm so disapointed I didn't get a picture of that hilarity. I was afraid he was going to throw out his back.
And I got to spend most of the evening with Hannah and my cousin Andy, two of my most favorite people in the world.
Finally, some of my favorite notes that guests wrote to Katie and Chris.